WHO THE HELL ARE they?
Starting out as a great excuse for Drummer Buzz Brown and Guitarist/Singer Rob Trosino to line up tequila shots and jam out on their favorite cover songs things were about to get scary "good" at their haunted Seattle Music Room. By the end of their first gathering they had 4 originals written so cover songs were tossed aside, and by time these longtime Facebook friends sobered up they came up with the concept of BUZZED & LOADED. Fun based Arena Rock, done with tongue in cheek lyrics, and all served on a cheap motel bed of shenanigans.
Within weeks Covid hit trapping Pat Benatar founding member and Bassist Roger Capps in Seattle which led them to finding their perfect bottom end for the band, and one with incredible Rock n Roll pedigree. Together they released their award nominated debut album Drunken Delusions Volume I & II, and rode out the lockdown in a state of perpetual tipsiness.
While attending a Music Award Show in Tennessee the band meshed with Andy Claus a Seattle Bass legend and the current lineup was consummated with our spouses in a Smokey Mountain hot tub. With Roger retiring from music Andy actually propelled the band to new heights on their current album Fast Cars & Dive Bars providing a ton of riff ideas, and colorful new swear words.  This album was nominated for 2022 Album of the Year at the JMA Awards held at the Grand Ole Opry in Nashville.  
Join the band in a toast to Rock n Roll as performed before computer trickery.  Stay BUZZED & LOADED!!
Latest News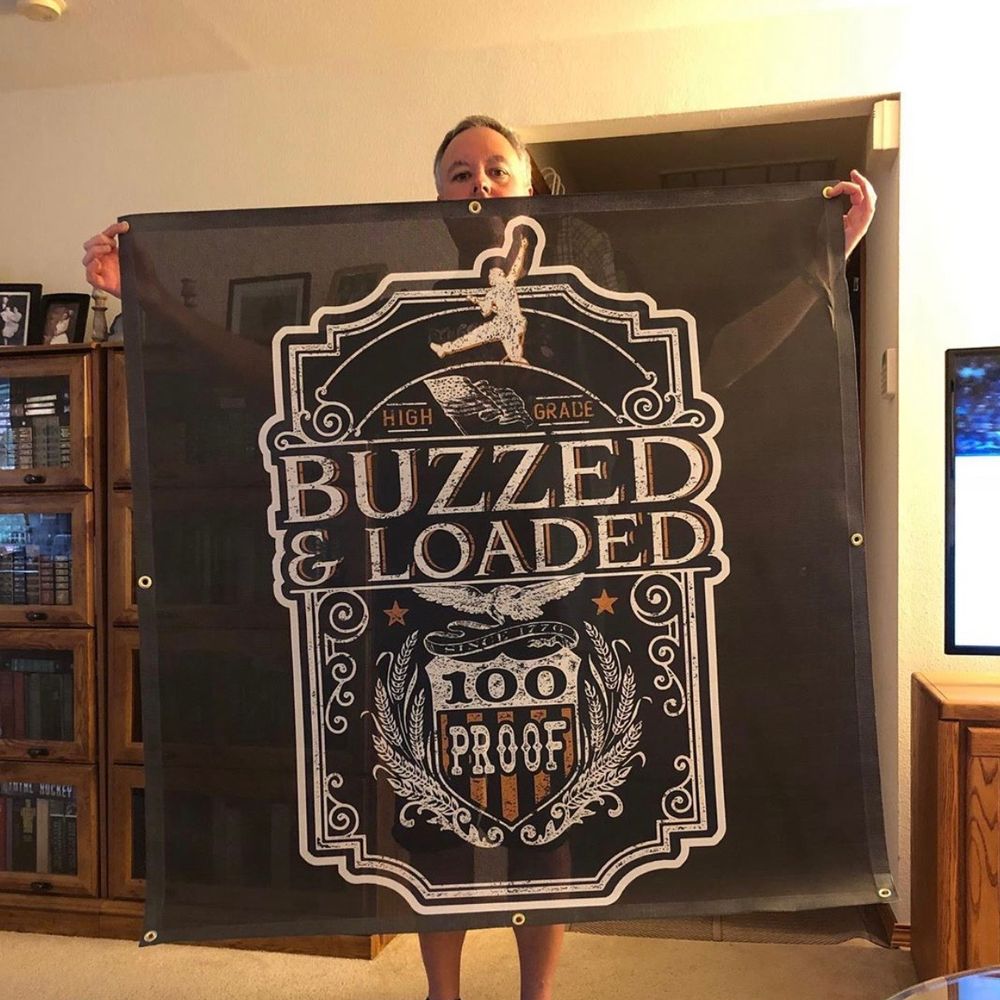 New Merchandise & Other News
Buzzed & Loaded have everything from these 4x4 banners, tees, mugs, hoodies, hats, and YES their own line of Whiskey is brewing now. Merch page coming soon. The first single from their debut album "At your door" was added to hundreds of stations, and multiple top 10 charts from Australia to Texas (#1 - 9 weeks in a row on ZTR FM Dallas). The song has been in the top 40 Global played tracks for over a two months peaking at #6, even beating out their hero's like Cheap Trick, The Ramones, and John Lennon. The debut album dropped February 1st, 2021.
Subsequent singles, Knock 'Em and Trouble have landed in the top 10 on various Global Radio Charts. Request the latest single "Rip it Up" where ever you consume your music.
The band landed in Nashville last September as finalist in multiple categories at the JMA's the worlds largest Independent Music Awards Show. They encountered a Bridal Shower brawl, a one legged prostitute, and more stories that will be detailed in future interviews.
Rob wants to thank his endorsers at REVV Amps, Dirtbag Clothing, and Konoykeen Guitars for all their continued support. Buzz Brown would like to thank his endorser Scorpion Percussion, and Centent Cymbals.
The band can't wait to get to play their first full shows with Andy Claus. Stay tuned here for band arrest reports, demo updates, and Mixology tips from Andy.
NEW ALBUM RELEASE - FAST CARS & DIVE BARS click HERE for digital CD.
Also available at your favorite digital retailers and streaming services.
Lead single "Bad Penny" from Fast Cars & Dive Bars became a finalist for Best Rock Song at the World Songwriting Awards!!
07/11/2023 International Physical Release of Fast Cars & Dive Bars with all new art (see below). Click HERE to purchase. 
06/11/2023 - The band has signed an International Record Deal with Italian Label SLIPTRICK RECORDS. Click HERE to read the press release and they are re-releasing Fast Cars & Dive Bars with new art. 
03/01/2023 - Patience will be rewarded as we've taken our time with our third album (Medication Nation) everything minus vocals has been completed with a Spring 2024 release date
01/18/2023 - The Metal God at the prestigous RIOT ON THE SET MEDIA chose Fast Cars & Dive Bars the 8th best rock album of the year finishing ahead of heavy weights like Bryan Adams, John Mellencamp, Hall & Oates, Tears for Fears, Midnight Oil and their favorite shredder  Joe Satriani. The celebration that night has become legendary and one of the guys ended up getting shaved clean in his private areas...pictures to follow.